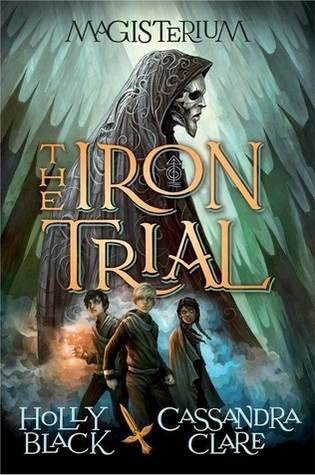 Title: The Iron Trial
Authors: Holly Black, Cassandra Clare
Publication date: September 9, 2014
Genre: Middle Grade Urban Fantasy
Synopsis: Most children will do anything to get into magic school. Not twelve-year-old Call, he wants to fail. Call grew up being told mages and magic were evil and the cause of his mother's death. The last thing Call wants to hear is that he has an affinity for magic. Call does everything in his power to fail the Iron Trial, the test to get into magic trial, and he does. Call has the lowest score in the Trial's history.
When it is determined Call failed on purpose he is forced to go to magic school anyway. There Call will discover the truth about his past. The real reason his mother was found dead next to a message that read "kill the child" all those years before.
Review: I have been reading many classics lately and am planning to start more soon, but I really needed to read something light and fun before reading another. This book was what I was looking for.
Most middle grade novels I read I find predictable, but not so with this book. I had always thought a somewhat predictable plot was necessary for middle grade novels so I am interested to learn more about how this book was received by its intended audience.
Call is a bit of an antihero. This is something I haven't seen before in the middle grade novels I've read. Call still has many redeeming qualities the reader can sympathize with including his loyalty to his friends, and love of animals, especially one animal in particular. I don't have entirely positive comments about Call. Sometimes his decisions seemed illogical as though he was acting purely to move the plot further, but for the most part this was something I was able to overlook.
I feel that in most middle grade novels Call's friend Aaron would be the main character. His personalty and back story as an orphan is more like what I have come to expect from a middle grade protagonist.
I have heard a lot of comparisons between this book and Harry Potter, and throughout the book I was reminded of that series, but I feel J. K. Rowling's world building was more complex and thought out than the world building in this book. While I do feel that this book was inspired by Harry Potter it was different enough that I don't feel there are any plagiarism issues.
What readers should know: Most of the violence is confined to the prologue, and even there the story starts after the battle was fought and all the reader sees is what remains afterwards. One secondary character does die, but this death isn't extremely detailed or emotionally impactful.
Rating: I give this book 4 out of 5 for an interesting plot twist and an entertaining story. I recommend this book for anyone looking for a light, quick read who doesn't mind the resemblance to Harry Potter.