Title: Sabriel, Lirael, Abhorsen
*Note: This is a review of the original trilogy not including the recently released prequel Clariel. It focuses on books two and three since they are two parts of a longer story-line. My review of book one is found here, but this review does not contain major spoilers.*
Author: Garth Nix
Genre: High Fantasy, Young Adult
Synopsis: All Lirael has ever wanted was to have the Sight so that she could be a full member of the Clayr. So long as she lives with the Clayr, a group of individuals tasked with seeing into the future, Lirael will be viewed forever as a child no matter how old she gets.
Picking up fourteen to twenty years after Sabriel left off this novel follows the separate journeys of Lirael and Sam, Sabriel's son until their lives converge on their quest to protect the Old Kingdom from the Greater Dead.
Review: I liked Sabrel, but had a difficult time getting through it. When I decided to read the sequel I expected to have the same problem, but was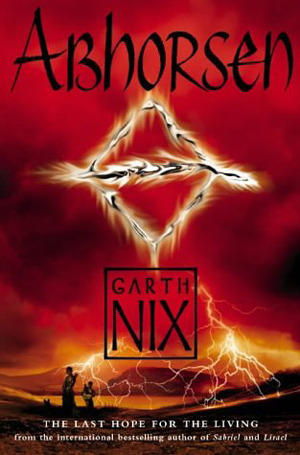 pleasantly surprised when I finished book two in only a day and book three in the two days after that.
My favorite aspect of this series is the world building. There are so many details in the way the necromancer's bells work, to the magic system, and the way the fictional society is structured that make it feel more believable and realistic.
I found our new characters more compelling than the ones in the first book. I had a hard time connecting with Sabriel and Touchstone, but connected with Lirael almost immediately. I feel her sense of being estranged from everyone around her is something to which most people can relate. Sam can be annoying sometimes, but his passages were enjoyable as well, and I didn't feel tempted to skip them during the time periods when Lirael and Sam are apart. I liked that it was Sam who needed to be rescued all the time instead of Lireal who would stereotypically be the damsel in distress in a fantasy novel where the lead male character holds aristocratic status.
This is the first book I've read in a while where there was both a lead male and female character and the two never fall in love. I know several people who have been trying to find a book where this happens, or rather doesn't happen, and will need to tell them about it.
The linear progression of book two was unusual. Part one of the novel is told entirely from Lireal's point of view on her fourteenth birthday and shortly thereafter. The rest of the novel is told after her nineteenth birthday. A time gap this large in the middle of a novel is unusual for young adult fiction, and it makes me wonder why it is classified as young adult. The only time I ever come across main characters in young adult books older than eighteen seems to be high fantasy. I'm wondering if the only reason this book is classified as it is has to do with the first book being YA and Sam being between the ages of  sixteen and seventeen throughout the entire portion of the novel he narrates.
Rating: I really enjoyed the second and third books of the Abhorsen series, and recommend them to anyone who read the first one and liked it even a little. For amazing world building and for being so engaging I give both books five stars.  As much as I enjoyed this continuation of the series, I'm not sure if I will continue with the recently released prequel as I have seen mixed reviews. If anyone has read the prequel I would appreciate them leaving their perspective on it in the comments.