January was a great month for reading. I read nine books and am currently reading two. Many of them were highly enjoyable. Two were classics, six were young adult, and one was nonfiction. Books are in the order I finished reading them with the earliest completed appearing first.
Short Synopsis: When seventeen-year-old Kestrel accidentally buys a slave at auction she learns the price she paid for a human being was higher than she could have imagined.
Thoughts: I started The Winner's Curse at the end of 2014, and it became my first book finished in 2015. While I enjoyed it and plan to read the sequel I don't think I liked it quite as much as most readers seem to. This has to do with the fact that I had difficulty believing any slave would be openly rebellious like Arin after years of servitude.
Rating:

Short Synopsis: "Once upon a time, an angel and a devil fell in love. It did not end well."– Daughter of Smoke and Bone, Laini Taylor
Thoughts: See my series review (spoiler free except where there are warnings) for my full thoughts, but overall I loved these.
Series Rating: 
Short Synopsis: A nonfiction book to help fiction writers with the structural and characterization elements of their works.
Thoughts: I haven't read many writing-craft books yet though I intend to read more, but it seems like many of them are about the marketing aspect of fiction. I liked that this book focused on the writing itself rather than publication. I didn't like all of the brief exerts from other works and skipped many of them, but recognize these exerts may have been necessary to further the author's points.
Rating: I haven't read enough writing help books to feel confident rating them.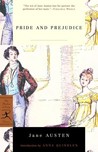 Short Synopsis: "It is a truth universally acknowledged, that a single man in possession of a good fortune must be in want of a wife." — Pride and Prejudice, Jane Austin
Thoughts: I know so many people who love this book I felt I had to read it. While I liked it, and feel I can understand why it's a classic it was unfortunately not a life-changing read for me. Romance just isn't my genre.
Rating: I haven't read widely enough in novels from this time period to judge.
Short Synopsis: Teen kills/tries to kill people with superpowers, but in the process uncovers that the solution to fighting the people he fights is nothing like he imagined.
Thoughts: I need to read more Brandon Sanderson books, that is my conclusion. Firefight is book two in the Reckoners Series that began with Steelheart. I'm loving this series so far, and think Brandon Sanderson has a great understanding of plot construction and world-building.
Rating:
Short Synopsis: Teenage boy deals with his complicated past and the fact that the "beast" inside might finally come out.
Thoughts: I've been looking for a book with a plot like this. In June I finished the second draft of a manuscript I've been working on with a similar plot (but more supernatural elements, less psychology). I'm not anywhere near querying it, but had no I idea how to market it if I ever got to that point. My other concern was that some agents like comparative titles in their queries and I couldn't think of any. Now I have one. Unfortunately for this book, I guessed the plot within the first fifty pages. Once the reader knows exactly what's going to happen the book isn't nearly as exciting. Note that the only reason I found it predictable was that I wrote a story with a similar plot. This book is not predictable.
Rating: 
Short Synopsis: Classic Greek tragedy about King Oedipus.
Thoughts: Most dysfunctional family in literary history. If you thought all of the orphan characters in fiction had it bad wait until you read this! This play is extremely short, but the poetic language makes it difficult to get into.
Rating: I haven't read enough Greek tragedy to judge.
Currently Reading:
To see a full review of anything I've read this month but haven't reviewed please comment below with a request.