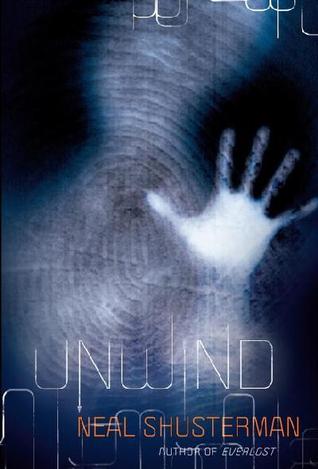 Titles: Unwind, UnWholly, UnSouled, UnDivided
Author: Neal Shusterman
Publication dates: 2007-2014
Genre: Young Adult Science Fiction/Dystopian
Synopsis: The second us civil war over reproductive rights ended in a stalemate. The verdict: "The Bill of life states that human life may not be touched from the moment of conception until a child reaches the age of thirteen.
"However, between the ages of thirteen and eighteen, a parent my chose to retroactively "abort" a child . . .
". . . on the condition that the child's life does not "technically" end."
—Unwind, Neal Shusterman
Review: I started reading this series in my freshmen year of high school, and finished it a few months ago. It has taken me so long to write this review because there is so much I want to say that I'm having a hard time putting into words. This series forces its reader to think and consider difficult issues about the real world through usage of science fiction elements.
The writing style of this series is rather unusual, and while I found it enjoyable I know there are many people who will find the series harder to get into as a result of the constantly changing point of view. If I remember correctly even an airplane got a perspective chapter at one point. Neal Shusterman is extremely good at giving all of his characters individual personalities when writing from all of their separate perspectives.
The practice of "unwinding"– which is essentially an extreme form of organ donating in which every part of the donor's body skin, eye, brain, and everything else can be transferred to someone else– is an extremely chilling and almost inconceivable concept. What makes the story believable and relatable despite it's outrageous premise are all the details Shusterman puts into making his society. Adding to the believably are all of the links and quotes to real events and news stories contained throughout the pages of the series. This includes stories about organ transplants, "feral" (aka rebellious) teenagers, and other medical advancements. The first book doesn't introduce many details of this fictional future's history which might make it difficult for some readers to understand the world, but I did not have this problem at all.
The first book can be read as a standalone, or all four books can be read continuously. Book one is in essence an introduction to the world, while book two expands upon it by exploring the organizations behind unwinding's several hundred million dollar industry. Book three, my least favorite, is essentially the first half of the conclusion. The fourth and final book, Undivided, explores the world's chilling black market that trades extensively in body parts taken from then perfectly healthy humans.
Book one follows three main characters: Connor, Risa, and Lev. All three of them are being unwound for various reasons– Connor due to disciplinary issues, Risa due to budget cuts, and Lev for religious reasons. With varying levels of enthusiasm these characters are brought together quite by accident and go "AWOL" (meaning they flee from their unwinding, which is illegal as unwinds are government property and no longer hold citizenship status). These three remain narrators throughout the series, and new ones are also added.
The series' most impactful scenes were the ones involving unwinding. The author did an amazing job writing these scenes without them being terribly horrific. Rather than make these scenes gory the author took an emotional approach that I would argue is far more influential on the reader than blood everywhere. In my sophomore year of high school I read one of these scenes aloud to my speech and debate class who declared the scene "weird and creepy".
This series has made me think about the state of the medical system. An infinite amount of money could be spent trying to keep people well, but everyone will eventually die. This series explores the concept of how society values some individuals more than others. It is ironic in the sense that unwanted children in this series are sacrificed to for the ones parents would do anything to save. Other issues this series explores include what it means to be alive and whether anyone truly deserves horrific fates.
This book can be enjoyed by people of almost any political stance or religious background which is astonishingly rare for a book with such a deep subject matter.
What Readers Should Know: While this series explores difficult issues including death and the afterlife it remains neutral on these issues.  The premise of this series does involve abortion, but this is not about abortion. Abortion is a mere springboard for the world building of the story making it that much more realistic.
There is some cursing although it is not heavy in this regard. Some minor teenage characters get pregnant in the later books, but details are not included.
Rating: This is one of my favorite series ever. I highly recommend to anyone who can get past the writing style and somewhat heavy subject matter.