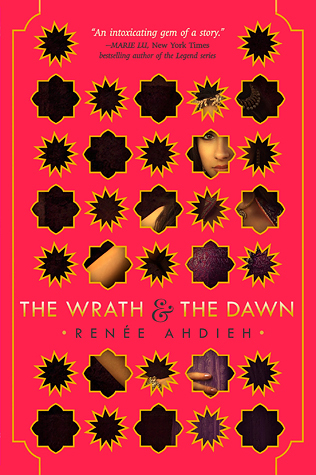 Title: The Wrath and the Dawn
Author: Renee Ahdieh
Publication date: May 12, 2015
Genres: Young Adult, High Fantasy, Retelling, Romance
Synopsis:.Everyday a brings new bride and every dawn brings their death. For unknown reasons, Khalid, the Caliph of Khorasan, marries a new woman each day before having her executed at dawn and repeating the cycle a new. Among the victims was Shahrahzad's best friend and she is determined to avenge her death.
Shahrahzad has volunteered to marry the Caliph for the opportunity to get close to the Caliph. It was Shahrahzad's plan to kill the Caliph, but as she speaks with him Shahrazad realizes the Caliph is not who she thought he was. All the same, Shahrahzad is determined to put an end to the murders. She will survive the dawn.
Review: I read this book directly after finishing The Hero of Ages (The conclusion to Brandon Sanderson's original Mistborn Trilogy). After enjoying that book so thoroughly and knowing this one was high fantasy, I went into this expecting to be disappointed. Fortunately,  I instead found this to be an engaging, interesting read.
This book is a retelling of 1001 Nights. I was not very familiar with the story line of 1001 Nights, so I can't judge the quality of the adaptation, but this story made me interested in reading the original work. This retelling focuses on the ongoing plot linking the many stories within 1001 Nights together.
Our main character, Shahrzad, is a very determined young woman and remained so throughout. I liked that she never let Khalid, the Caliph, scare her into submission although she was scared at times for good reason. She also never forgot what Khalid had done or entirely forgave him even as she started spending more time with him. This is something I can't say about a lot of YA characters and it makes me appreciate Shahrzad even more for it. The retelling didn't put much emphasis on the stories Shahrazad told during the night, and I'll admit I found myself skimming through them when they were incorporated as the contents of the stories told didn't hold much influence in this particular retelling as a whole besides distracting Khalid and making him think.
Although I really enjoyed this, there were some elements that kept me from rating it higher. Every character in this book seems to have their own unique eye color. While the author may have intended to use this as a way for the reader to better differentiate between characters, and this fixation on eye colors is fairly common in novels, I found it extremely annoying. Overall, however, the writing was very good: just the right balance of poetic but not too poetic.
Shahrzad gave the impression that she had planned and expected to distract the Caliph. Much of what she did seemed improvised and I'm surprised she didn't know more about the Caliph before going in. This made the story a little unbelievable for me, but I guess the author was trying to use the fact that desperation can make people act irrationally as justification.
The love triangle is something else I could have done without. It's clear who Shahrzed is going to end up with, and so I view it as rather pointless. However, I can see that the author added it to create tension, and it doesn't bother me as much as it does in many other books. The magic system was also barely touched on. I would have liked to see more of it.
While I was reading this I was trying to place it in history due to references of a few real world countries/cultural elements. The religious references in particular left me confused as the characters would appear to worship the Greek gods but the story seems to take place in the Middle East. Though I think the author might have simply had Shahrzad pick up on terms that implied she worshiped the Greek gods as she grew into a friendship with a Greek serving girl.
What Readers Should Know: Sex is mentioned and there scenes where sex was implied, but this wasn't explicit or frequent. The characters involved were married. There was the use of the occasional curse word, but it was not frequent. There was no gory violence, but there were mentions of the Caliphs past murders, attempts at murders, and practice with weapons.
Rating: The pacing and overall writing of this book was well done, and I liked that it was set in a fantasy world that did not resemble Medieval Europe as I haven't read nearly enough fantasy novels where the setting didn't, but there were too many minor issues I had with it for me to give it higher than a four.