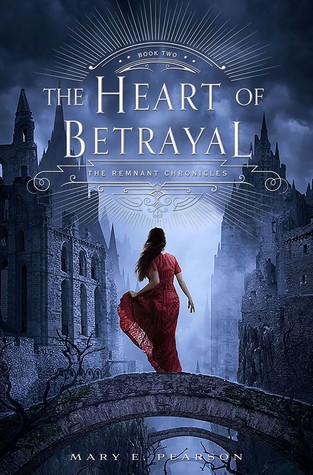 Title: The Heart of Betrayal (The Remnant Chronicles #2)
Author: Mary E. Pearson
Publication date: July 7, 2015
Genre: Young Adult High Fantasy
Synopsis: When Princess Lia flees the palace on her wedding day she thinks she is done with royal life. She should have known it wouldn't be that simple. She is pursued by the prince she was supposed to marry and an assassin sent to kill her. Lia must keep her wits about her if she wants to survive.
Review: This book was a pleasant surprise after the first one. I had a huge problem in book one with both the pacing and Princess Lia herself who annoyed me because she didn't once even stop to consider that by running away from a marriage that was a political alliance she is risking starting a war between her people and Dalbreck.
The twist everyone talks about in this book was something I figured out fairly early on, and it wasn't until the last twenty-five pages or so that I actually started to get interested in the story-line. It's because of the way book one ended that I decided to pick up this book, and in the end I'm glad I did.
The writing in this book is very good. It's almost poetic, but does not feel at all like purple prose.
Pearson's portrayal of Vendan culture in this book is excellent. In book one we're shown how the people of Morrighan view the people of Venda as "savages" because their cultures are so different from one another. In this book we learn how many of these "savage" cultural aspects actually made sense when taking into account the circumstances the people lived under. So many authors write about fictional cultures the main character's culture views in a negative way and make some of the characters' from said other culture not evil, but never explain the logic behind the other cultures seemingly "savage" rituals. I loved that Pearson didn't fall into this trap.
The pacing in this book was much better than that of The Kiss of Deception, but it still lagged towards the middle. I ended up skimming through several sections around that point. Most epic fantasy books have the characters moving frequently from place to place even if the story happens entirely in a single city. I think the fact that the setting was the Sanctum for almost the entire book may have contributed to this fact. Pauline's perspective also felt a bit unnecessary to me and I skimmed though most of her sections.
The Komizar was a complex and well developed antagonist. From the Komizar's point of view he is doing what is best for his country and his actions are not evil. Despite this I did have a slight issue with some of the side characters' believabiliy and this is the same issue I had with the first book. I had particular trouble with the Assassin. He just showed too much sympathy to those he was tasked to kill for me to believe he was the most accomplished assassin in Venda who had been training for this since childhood.
I was really hoping the magic system would be expanded upon in this book, but although we got to see a little more of it the magic remained in the background. I've noticed a lot of young adult high fantasy novels hardly mention the magic system at all. I love innovative magic systems so this is not a trend I like, but I think it might have something to do with the fact that young adult books are expected to be shorter so there is less time to expand upon one.
What readers should know: This book does contain some language and some character deaths occur. If this were a movie I think it would be rated PG.
Rating: I enjoyed this book, but I had several issues as listed in this review that kept me from absolutely loving it so this book is getting a four out of five.