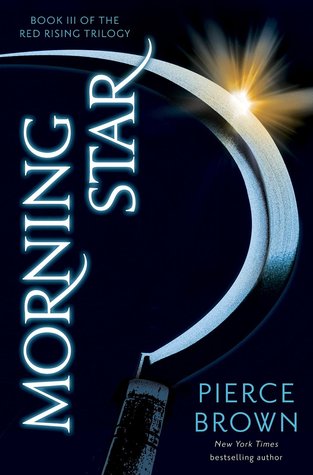 Title: Morning Star (Red Rising #3)
Author: Pierce Brown
Published: Febuary 9, 2016
Genre: Adult Science Fiction
Note: Because I find it impossible to write a synopsis of this book it is being left out of this review. I've kept this review as spoiler free as possible, but those not familiar with the series might get more out of my reviews of Red Rising or Golden Son, the first two books in this series.
Review: This was my most anticipated book release of 2016, and I was not disappointed. Golden Son ended on an extremely suspenseful note, one that left me unsure of how Morning Star would pick-up. When I found out the amount of time there would be between between when Golden Son ended and Morning Star began I was initially unsure of the story, but by the end of the first chapter I was engaged in the story all over again.
Many dystopian series have conclusions that fell short of my expectations. This is often due to there being so much wrong with their society that the main character has a much more passive role than in previous books. This book managed to give Darrow a significant enough role in the rebellion that I still felt like his actions made a huge difference, while still showing that Darrow had to rely significantly on others in order to achieve his goal of reforming the Society.
In Morning Star many of the side characters have gotten extremely well developed. In order to avoid spoiling which characters are still alive at the beginning of the novel I won't say much, but the characters' interactions with one another were some of my favorite parts of this book.
I recently learned of the spin-off series Pierce Brown is writing set in this world, Iron Gold. I can't wait to see what is next for this fictional universe, and have plans to reread this novel once I get my copy back from a friend who is borrowing it.
Rating: This series was great to read with so many suspenseful moments and great plot twists.