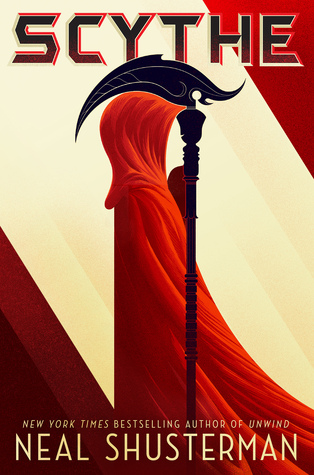 Title: Scythe
Author: Neal Shusterman
Publication Date: November 22st 2016
Genre: Young Adult Science Fiction
Synopsis: In a utopian future there is only one way left to die: at a scythe's  hands. Death is now a random, rare occurrence, and only those who do not want to take lives are permitted to do so . . . at least that is how it's supposed to be.
When Citra and Rowan are chosen as scythe's apprentices it becomes clear to them that that the Scythedom doesn't always operate the way it was intended.
Thoughts: Neal Shusterman is one of my favorite authors, so I wanted to read this book the moment I heard about it. I really enjoyed this book overall, but there were a few points where it fell short for me.
I love the concept of a society that conquers death, and needs to kill off portions of its population as a result to prevent overpopulation. It is interesting to see a society where futuristic technology makes things better instead of worse.
The artificial intelligence in this book, known as the thunder cloud, is an interesting character. It's the only story I've read where the AI is portrayed as less corruptible as the humans.
The Shythedom itself, what the scythes call their organization, is fascinating. The scythes all followed ten commandments, but interpreted them in very different ways. This is a nice exploration of the ways humans interpret different philosophies.
This book feels like a reversal of the author's dystopian series, Unwind. In Unwind the people take bits of unwanted humans and using them to save people. Whereas, in this book, the taking of unwanted humans for the good of the many is meant to be forbidden.
The main issues I have with this otherwise great book was with the characters and the pacing.
Citra and Rowan don't spend as much time together as was needed to form a strong bond between them. The long amounts of time the two spend apart also leads to their story arcs diverging a significant amounts. I can see how this might cause someone else to skip between one perspective for another.
The pacing feels a little too fast sometimes and too slow at others. Maybe the author did this so that the story would feel like the story happened spontaneously, like death often does in real life, but I don't think it always worked. At times it made it harder to connect to the characters because I never really got to know them.
I think most of this can be contributed to rushed editing, as there was at least one place where I noticed a simple grammatical error.
Rating: I recommend this book to fans of Neal Shusterman, and who may want to see something that contains some dystopian tropes presented with unusual twists.