This is a list of the books I'm most looking forward to releasing this year. There are definitely more coming out I want to read, but these are the books that I think about often and want my hands on ASAP.
*Note: Synopsises from Goodreads.*
Oathbringer (The Stormlight Archive #3)
Release Date: November 14, 2017
Synopsis: 
Return to a planet swept by apocalyptic storms, a world tipping into war as aristocratic families move to control the shard blades and shard plates, ancient artifacts from a past civilisation that can win wars.
As the world tips into a war for control of the mythical artifacts of power made from Shard, characters are swept up into new dangers which will threaten their integrity and their lives.
Huge, ideas-filled, world-spanning fantasy from a master of the genre.
Thoughts: The second book in this series, Words of Radiance, is one of my favorite books of all time. I can't wait for this book's release.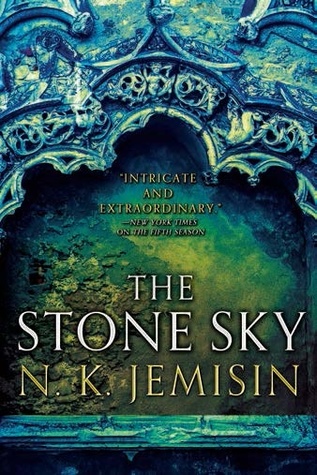 The Stone Sky (The Broken Earth #3)
Release Date: August 15, 2017
Synopsis: *Warning: Contains Spoilers*
THIS IS THE WAY THE WORLD ENDS… FOR THE LAST TIME.
The Moon will soon return. Whether this heralds the destruction of humankind or something worse will depend on two women.
Essun has inherited the power of Alabaster Tenring. With it, she hopes to find her daughter Nassun and forge a world in which every orogene child can grow up safe.
For Nassun, her mother's mastery of the Obelisk Gate comes too late. She has seen the evil of the world, and accepted what her mother will not admit: that sometimes what is corrupt cannot be cleansed, only destroyed.
The remarkable conclusion to the post-apocalyptic and highly acclaimed trilogy that began with the multi-award-nominated The Fifth Season.
Thoughts: I loved the first too books in this series, and can't wait to learn what happens next.

Strange the Dreamer
Release Date: March 28, 2017
Synopsis: 
The dream chooses the dreamer, not the other way around— and Lazlo Strange, war orphan and junior librarian, has always feared that his dream chose poorly. Since he was five years old he's been obsessed with the mythic lost city of Weep, but it would take someone bolder than he to cross half the world in search of it. Then a stunning opportunity presents itself, in the person of a hero called the Godslayer and a band of legendary warriors, and he has to seize his chance to lose his dream forever.
What happened in Weep two hundred years ago to cut it off from the rest of the world? What exactly did the Godslayer slay that went by the name of god? And what is the mysterious problem he now seeks help in solving?
The answers await in Weep, but so do more mysteries—including the blue-skinned goddess who appears in Lazlo's dreams. How did he dream her before he knew she existed? and if all the gods are dead, why does she seem so real?
In this sweeping and breathtaking new novel by National Book Award finalist Laini Taylor, author of the New York Times bestselling Daughter of Smoke & Bone trilogy, the shadow of the past is as real as the ghosts who haunt the citadel of murdered gods. Fall into a mythical world of dread and wonder, moths and nightmares, love and carnage.
Thoughts: I got an exert of this one from BEA, and really enjoyed the sample chapters I read. I can't wait for the rest.
*Note: I received sample chapters of Strange the Dreamer from it's publisher. Opinions are my own, and I was not otherwise compensated.

Our Dark Duet (Monsters of Verity #2)
Release Date: June 13, 2017
Synopsis: 
*Warning: Contains Spoilers*
Kate Harker is a girl who isn't afraid of the dark. She's a girl who hunts monsters. And she's good at it. August Flynn is a monster who can never be human, no matter how much he once yearned for it. He's a monster with a part to play. And he will play it, no matter the cost.
Nearly six months after Kate and August were first thrown together, the war between the monsters and the humans is terrifying reality. In Verity, August has become the leader he never wished to be, and in Prosperity, Kate has become the ruthless hunter she knew she could be. When a new monster emerges from the shadows—one who feeds on chaos and brings out its victim's inner demons—it lures Kate home, where she finds more than she bargained for. She'll face a monster she thought she killed, a boy she thought she knew, and a demon all her own.
Thoughts: I loved the last book, reread it once. August is awesome, and Victoria/V.E. Schwab's writing is so addictive.

A Conjuring of Light (Shades of Magic #3)
Release Date: February 21, 2017
Synopsis: The battle between four magical Londons comes to a head in this stunning finale to the New York Times bestselling Shades of Magic trilogy by rising star V. E. Schwab.
London's fall and kingdoms rise while darkness sweeps the Maresh Empire—and the fraught balance of magic blossoms into dangerous territory while heroes and foes struggle alike. The direct sequel to A Gathering of Shadows, and the final book in the Shades of Magic epic fantasy series, A Conjuring of Light sees Schwab reach a thrilling culmination concerning the fate of beloved protagonists—and old enemies.
Thoughts: The other two books in this series kept me up late into the night. I wouldn't be surprised if this one does the same.