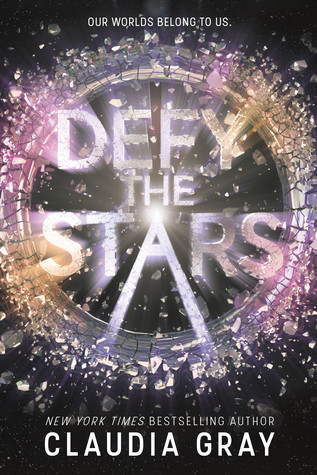 Title: Defy the Stars (Constellation #1)
Author: Claudia Gray
Published: April 4, 2017
Genre: Young Adult Science Fiction
Synopsis: Noemi will to do anything for her best friend and planet. Even sacrifice her life, but when Noemi discovers an abandoned Earth spacecraft and a chance to end the war between her world and Earth, Noemi's plans change. Noemi might not need to sacrifice her life to save her planet anymore, but she's not sure she can make it in time.
Abel, a humanoid robot, was locked in an abandoned spaceship for thirty years. Now, he's been freed by one of his maker's enemies. Abel wants nothing more than to find his master and serve his purpose, but a flaw in his programming won't allow it. Abel has no choice but to do everything his new master says, even if it means helping his enemy.
Review: This is the sort of science fiction novel I love. For whatever reason, I can't get enough of plot lines where a non-human protagonist has to blend into human society, and along the way learn they have much more in common with humans than they thought.
I adore Abel for this reason, and his personality in general. I love it when authors manage to make readers sympathize with characters that might otherwise come across as things rather than people.
After all, in the end, none of the characters we read about exist in real life. Therefore, I see little reason why we can't have robot characters come across as just as developed as the human ones. All characters are products of human imagination.
Noemi is a strong character, too. Noemi's devotion to her planet gave her strong motivation. That said, at times I felt as though Noemi had less personality than the robot.
I think part of this had to do with her character. Noemi's life has been full of loss, she's just experienced another tragedy, and believes herself due for another as her planet sends it's young people on a suicide mission. That seems like enough to make anyone harden to emotions.
Noemi's seeming less human than her robot companion could also be seen as symbolism, and perhaps allow room for readers to grow stronger attachments to Abel despite his inhuman nature.
Another thing I loved about this book was that it posed philosophical questions. This is an element YA novels often lack, but I love the YA novels where it is present anyway. Many of the adult novels that strive to make readers think can get a little preachy. YA novels that make readers think often avoid this, or at least, the ones I've read do.
That said, I would have liked more exploration of the philosophical elements, but since this is YA I'll take what I can get.
Another element I don't often see discussed in nonsecular novels is religion. This book touches on religion more than most novels, particularly YA, that I've read. Noemi was raised Catholic and her planet's culture places much value on religion. While it, again, does not come across as preachy, this influences Noemi's actions throughout the novel.
I'm split on what I thought about the worldbuilding. On one hand, I like that readers were shown so much of it. The protagonists visit just about every habitable world. On the other hand, visiting so many places leads to a lack of depth.
That there were only enough robot models in the future for each one to be assigned a letter of the alphabet also seemed unlikely and of limited vision. Then again, this also seemed a means by which the author simplified her plot to keep it from overwhelming the story.
The author did the same thing with the planets. Each one is defined by a key characteristic. There is a resort planet, a planet for geniuses, and a planet for devoutly religious people. This is a big part of why I say that the worldbuilding lacked depth.
The worldbuilding also reminded me of Star Wars. Perhaps this shouldn't surprise me seeing as Claudia Gray is also contracted to write Star Wars novels.
I added this one to my TBR because I'd read and enjoyed Gray's Star Wars novel, Lost Stars. I'm glad I did, because I liked this one even more.
Rating: I keep going back and forth between 4 and 4.5 on this one. If I did quarter ratings I would. There were some things I didn't like about this book, but there were even more things I loved. It's one of those books I can't stop thinking about. That makes me want to rate it higher.
In the end, I settled on 4.
Do you plan to read Defy the Stars? Have you read it already? What did you think? 
Share your thoughts in the comments below!