Top Ten Tuesday is a meme hosted by The Broke and the Bookish. This week's theme is "top ten recommendations for ___." I chose my top ten recommendations for eclipse watchers.
This theme is inspired by the solar eclipse of August 21st visible in North America. I'll only see a partial eclipse myself, but I wish all those able to see the total eclipse the best and a reminder to not look directly at the sun without proper eye protection.
Even if you don't plan to see the eclipse, these might still be good reads for future eclipses or just because you feel like reading them.
Nightfall
Goodreads summary
Imagine living on a planet with six suns that never experiences Darkness. Imagine never having seen the Stars. Then, one by one your suns start to set, gradually leading you into Darkness for the first time ever. Image the terror of such a Nightfall.
Scientists on the planet Kalgash discover that an eclipse – an event that occurs only every 2049 years – is imminent, and that a society unfamiliar with Darkness will be plunged into madness and chaos. They realize that their civilization will end, for the people of Kalgash have a proven fear of Darkness, but they are unable to predict the insanity and destruction that will accompany the awesome splendor of Nightfall.
Thoughts
I haven't read this book but love Asimov's Robot books. Regardless, this is an awesome premise.
A Memory of Light (Wheel of Time #14)
Goodreads summary
*may contain spoilers*
"And it came to pass in those days, as it had come before and would come again, that the Dark lay heavy on the land and weighed down the hearts of men, and the green things failed, and hope died." From Charal Drianaan te Calamon, The Cycle of the Dragon.
In the Field of Merrilor the rulers of the nations gather to join behind Rand al'Thor, or to stop him from his plan to break the seals on the Dark One's prison—which may be a sign of his madness, or the last hope of humankind. Egwene, the Amyrlin Seat, leans toward the former.
In Andor, the Trollocs seize Caemlyn.
In the wolf dream, Perrin Aybara battles Slayer.
Approaching Ebou Dar, Mat Cauthon plans to visit his wife Tuon, now Fortuona, Empress of the Seanchan.
All humanity is in peril—and the outcome will be decided in Shayol Ghul itself. The Wheel is turning, and the Age is coming to its end. The Last Battle will determine the fate of the world…
Thoughts
I've only read the first three books in this series. However, I'm told there is an eclipse in this one, so on the list it goes.
Defy the Stars (Constellation #1)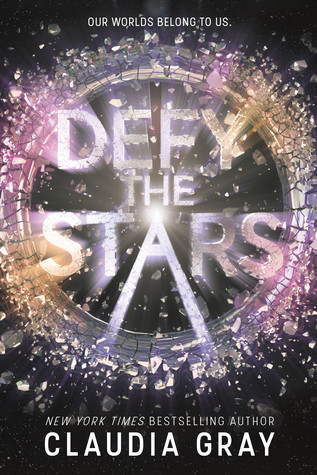 Summary
Noemi will to do anything for her best friend and planet. Even sacrifice her life, but when Noemi discovers an abandoned Earth spacecraft and a chance to end the war between her world and Earth, Noemi's plans change. Noemi might not need to sacrifice her life to save her planet anymore, but she's not sure she can make it in time.
Abel, a humanoid robot, was locked in an abandoned spaceship for thirty years. Now, he's been freed by one of his maker's enemies. Abel wants nothing more than to find his master and serve his purpose, but a flaw in his programming won't allow it. Abel has no choice but to do everything his new master says, even if it means helping his enemy.
Thoughts
While this book doesn't have an eclipse in it, I think it would be a great book to set the tone for watching one. It's set in space and involves mentions many celestial bodies. Read my review to learn more.
Dawn (Xenogenesis #1)
Goodreads Summary
Lilith Iyapo has just lost her husband and son when atomic fire consumes Earth—the last stage of the planet's final war. Hundreds of years later Lilith awakes, deep in the hold of a massive alien spacecraft piloted by the Oankali—who arrived just in time to save humanity from extinction. They have kept Lilith and other survivors asleep for centuries, as they learned whatever they could about Earth. Now it is time for Lilith to lead them back to her home world, but life among the Oankali on the newly resettled planet will be nothing like it was before.
The Oankali survive by genetically merging with primitive civilizations—whether their new hosts like it or not. For the first time since the nuclear holocaust, Earth will be inhabited. Grass will grow, animals will run, and people will learn to survive the planet's untamed wilderness. But their children will not be human. Not exactly.
Thoughts
This one doesn't have an eclipse either, but it also seems like a great book to set the tone for the event. I'll be reading the second book in this series in the time before the eclipse myself.
The Three-Body Problem (Remembrance of Earth's Past)
Goodreads Summary
The Three-Body Problem is the first chance for English-speaking readers to experience this multiple award winning phenomenon from China's most beloved science fiction author, Liu Cixin.
Set against the backdrop of China's Cultural Revolution, a secret military project sends signals into space to establish contact with aliens. An alien civilization on the brink of destruction captures the signal and plans to invade Earth. Meanwhile, on Earth, different camps start forming, planning to either welcome the superior beings and help them take over a world seen as corrupt, or to fight against the invasion. The result is a science fiction masterpiece of enormous scope and vision.
Thoughts
This book was a little slow for my tastes, but I still think it would be a great way to set the tone for the eclipse. This book even (sort of?) involves an eclipse . . . though I'm not sure if what happens qualifies as an eclipse or not.
Illuminae (Illuminae Files #1)
Summary
Just hours after their recent break-up, exes Kady and Ezra find their home planet in the middle of a war between intergalactic corporations. In the evacuation, the two find themselves on separate space ships.
If they want to survive. Kady, Ezra, and the other refugees need to reach the nearest jump station, through which they can reach a more densely inhabited region of space, before those who invaded their planet catches up with the refugees.
Thoughts
If you're looking for a book with non-conventional formatting to set the tone for a non-conventional day, this may be the book for you. No eclipses in this one, but plenty of space travel. Read my review to learn more.
The Martian Chronicles
Goodreads Summary
The strange and wonderful tale of man's experiences on Mars, filled with intense images and astonishing visions. Now part of the Voyager Classics collection.
The Martian Chronicles tells the story of humanity's repeated attempts to colonize the red planet. The first men were few. Most succumbed to a disease they called the Great Loneliness when they saw their home planet dwindle to the size of a fist. They felt they had never been born. Those few that survived found no welcome on Mars. The shape-changing Martians thought they were native lunatics and duly locked them up.
But more rockets arrived from Earth, and more, piercing the hallucinations projected by the Martians. People brought their old prejudices with them – and their desires and fantasies, tainted dreams. These were soon inhabited by the strange native beings, with their caged flowers and birds of flame.
Thoughts
Okay, so this one is more anthology than novel, but this could be a plus for people traveling to see the eclipse. I have trouble committing to lengthy books while traveling, so short stories might be the best way to go.
This one also deals with Mars more so than space, but I still think it could be a great way to set the tone. Unfortunately, no eclipses here.
Eclipse (Twilight #3)
Goodreads Synopsis
As Seattle is ravaged by a string of mysterious killings and a malicious vampire continues her quest for revenge, Bella once again finds herself surrounded by danger. In the midst of it all, she is forced to choose between her love for Edward and her friendship with Jacob – knowing that her decision has the potential to ignite the ageless struggle between vampire and werewolf. With her graduation quickly approaching, Bella has one more decision to make: life or death. But which is which?
Thoughts
The book everyone was waiting for, just kidding. I know you guys, but I just couldn't make this list without including the book with the word eclipse in the title.
Ironically, no eclipses here either.
Red Rising (Red Rising #1)
Summary
Darrow spends his days on Mars mining the minerals needed to terraform the planet's surface. He could care less about the fact that he is a member of the lowest "caste," oppressed by the Society. Darrow is too busy trying to provide for his wife and extended family. Darrow knows the price of rebellion. He attended his father's execution at five years old.
Darrow's outlook on rebellion changes when another of Darrow's loved one is killed by the society. Her dying wish: break the chains. Now Darrow will stop at nothing to make her dream a reality. Even if it means infiltrating the Gold, upper-class, society and pretending to be one of his enemies.
Thoughts
Yet another book set more on Mars than in space. I think the sequels set the tone better, but don't want to include a sequel on a list where the first book will do. Read my review to learn more.
The Martian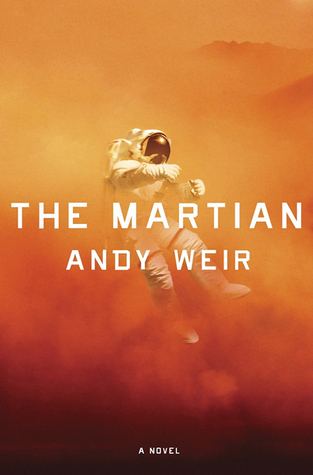 Summary
Mark Watney was part of an early mission to Mars, but what had been the opportunity of a life time quickly becomes a disaster. Believing Watney died in a Martian sandstorm, the crew has left Watney behind. The next Mars mission isn't scheduled to arrive for another four years and Watney's supplies were designed to last 31 days. With no way to contact NASA, Watney must find a way to defy the odds and survive.
Thoughts
This list is getting Mars heavy, but I still felt the need to include this book. Even though it's planet bound, all the novel's discussion of space exploration seems a great way to set the tone for the eclipse.
Have you read any of these books? Are you watching the eclipse? What books would you recommend people watching the eclipse read to get them in the mood? 
Share your thoughts in the comments below!