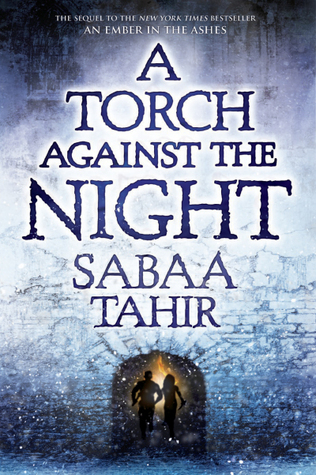 Title: A Torch Against the Night (An Ember in the Ashes book 2)
Author: Sabaa Tahir
Publication Date: August 30, 2016
Note: An advanced copy was provided by the publisher, but opinions are my own.
Genre: Young Adult Fantasy
Synopsis: *This is the second book in a series. This review will be spoiler free, but the synopsis isn't. Those who haven't read the first book might be interested in my review of An Ember in the Ashes.*
Lila and Elias must work together in order to free Lila's brother from the most secure prison in the emperor. Along the way their own freedom will be threatened. They must free Lila's brother while trying to avoid being captured or put to death themselves.
Thoughts: The second installment in the An Ember in the Ashes series proved a fast paced, engaging read.
My favorite part about this book was the author's use of tension. I couldn't wait to see what was going to happen next particularly since it seems Tahir has no problem with killing characters off.
One think I would have liked to know going into this book is that this is not a finale. I heard somewhere that this series was meant to be a duology, but it is most certainly not. I ended the book very confused as to why everything felt so open ended, but learning this book is the second in a series made a lot more sense.
I still felt the magic system wasn't fleshed out all the way, but there was more of it mentioned in this book than the first one. It was nice to see more magic in this book, and I hope there will be more of it in the books to come. The magic system doesn't strike me as particularly original, but it's still a change from the element based magic systems that seem to dominate recent fantasy releases.
My main gripe with this book is similar to the one I had for the first book in the series. That is to say I didn't find the story sticking with me long after I read it. 
Rating: This is a great book for people looking for a fast-paced read or need something to get out of a reading slump, but I didn't find it particularly memorable, so it gets 4/5.