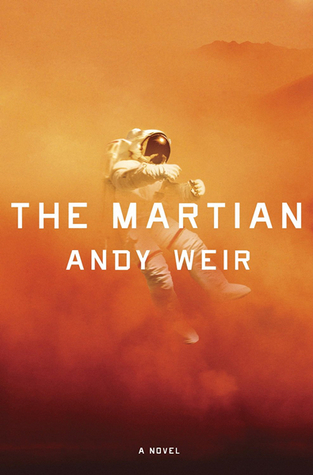 Title: The Martian
Author: Andy Wier
Published: 2011
Genre: Adult Science Fiction
Synopsis: Mark Watney was part of an early mission to Mars, but what had been the opportunity of a life time quickly becomes a disaster. Believing Watney died in a Martian sandstorm, the crew has left Watney behind. The next Mars mission isn't scheduled to arrive for another four years and Watney's supplies were designed to last 31 days. With no way to contact NASA, Watney must find a way to defy the odds and survive.
Review: It's next to impossible to write a good book where the main character is alone almost the whole time, but somehow Andy Weir has managed to pull it off.
This book is extremely well researched. As someone who has done a significant amount of research on Mars for the purpose of writing my first (never to be published) novel which was set on the red planet this is something I really appreciated. One of my issues with Red Rising was that it was clear little to no research had been done on the planet itself despite the fact that the entire book was set there. (Note that I still really enjoyed Red Rising overall in spite of this and gave it four stars.)
Our narrator, Mark Watney, has very strong voice. This allows him to carry the story on his own without it falling apart due to the lack of character interaction. The sections told in third person by members of NASA also add side characters to the story.
The pacing in this book is good. Just when one disaster ended another that somehow seemed even more desperate than the last began. In spite of this, I somehow did not feel as strong an urge to keep flipping pages and keep reading whenever possible as I do with some books. This brings me to my next point.
The reason this loses half a star is due to the fact that I didn't feel enough emotional attachment to what was going on. I can't say exactly why this is as the stakes were high at pretty much every moment. It might have something to do with the fact that we never seemed to get to hear much about Mark's backstory, or at least it seemed that way to me. We heard a little bit about his college life and he mentioned his parents, but beyond that we never got to hear about someone outside of the crew who personally knew and cared about Mark. I think giving someone from Mark's personal life a little page time or revealing more about his past may have made me care more.
What readers should know: This book is intended for adults. The language would be enough to make it rated R if they kept all of it in the movie, but due in part to the low amount of character interaction the language is just about the only thing that could be potentially deemed inappropriate.
Rating: This is a very realistic depiction of a Mission to Mars. Even though it wasn't always as gripping as I would have liked it was still a great read and one that I highly recommend to readers who are even the slightest bit interested in Mars or space exploration.