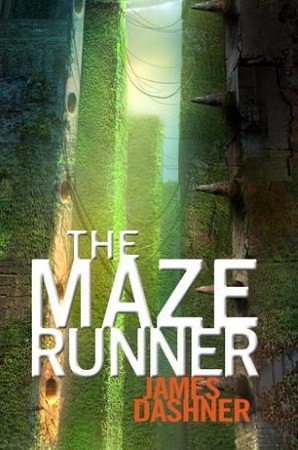 Title: The Maze Runner
Author: James Dashner
Genre: Young Adult, Dystopian
Synopsis: Once a month without fail a new boy arrives in the maze. They remember nothing of their previous lives.
These boys have been trying to solve the maze for two years. No one has succeeded. Boys who don't return to the glade before dark never survive. Strange monsters are prepared to attack at any moment, but life goes on. The boys have settled into their lives in the maze not realizing that everything is about to change.
When Thomas arrived in the maze nothing seems out of the ordinary. Thomas's arrival was normal, expected, but the arrival the next morning is not. She's a girl, and she's triggered The Ending– whatever that means. In the coming days one thing becomes clear, if the boys of the maze don't find a way out of the maze all of them will die.
Review: I am conflicted. I like the premise for this book, but I struggled to finish it.
The main world-building problem I had with getting into this book was connecting with Thomas as a character. It is written in third person, which is not a bad thing, there are plenty of books written in third person I love, but sometimes it makes it more difficult to connect to the characters.
I have also been reading way too many dystopian novels lately. It is incredibly hard to impress me with them. Had I read this a few years ago I would have loved this book, but I didn't read it a few years ago. I read it in 2014, and because of that I can't give this higher than a three.
The  in this book could have been expanded upon. We got to see the maze, and the slang was a nice touch though overdone at times, but I never got a real sense of the maze. To me it was always just a maze with monsters in it. It wasn't until I saw the movie that I stated to know what everything looked like, and that expanded upon the description in the book.
I understand that this book is supposed to have elements of mystery, but I wish the reader had learned a little more at the end. I'm not going to spoil the ending, but I will say that the reader gets some answers, but it's clear something else is really going on.
What readers should know: This book is fairly clean. There are some character deaths, mild violence, and fictional curse words, but other than that there aren't many disclaimers.
Conclusion: Not a bad book, but it's not for me. Others who aren't tired with the market's over-saturation of dystopian novels might like it more. Three out of five.