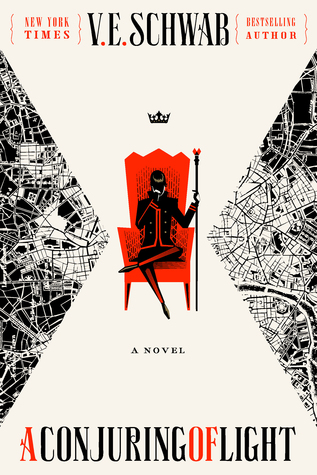 Titles: A Darker Shade of Magic, A Gathering of Shadows, A Conjuring of Light (Shades of Magic Series)
Author: V. E. Schwab
Published: 2015-2017
Genre: Adult Fantasy
Synopsis: Kell is one of the only magicians able to travel between parallel worlds. Situated in his world's version of London, he acts as intermediary to the royalty of three worlds. Bringing messages and information between them. Yet, behind the royals' backs, Kell illegally transfers goods between worlds.
This smuggling remains a quiet side business until the day Kell makes a mistake and transfers something he shouldn't. Something that puts everything and everyone Kell cares about at risk. It's up to him and his new companion Delilah Bard, a thief from our world, to save all three Londons Kell travels to.
Review: The first two books captivated me and the third was enjoyable. Book one and two are some of the only books of their length I've read in a single day. Book three took a few days more, but the fact that it is the longest of the series might have something to do with this.
Other reviewers have said that they had a hard time getting into the first book, but I did not find this to be the case. I think my reading experience was different because I started the first book at a time when I had several hours to devote to reading without interruption. Books one and two are some of the only books I've read that have kept me up long past midnight in the last few years.
Something I've noticed about many of V. E./Victoria Schwab's characters is that many of her male leads have personality traits more often found in female leads with the opposite true for her female leads. This holds true in this series for Kell and Lila. The dynamic that results from these character traits in Schwab's dual point of view novels with one male and one female lead character contrast each other nicely.
Kell has, for the most part, lead a sheltered life up until the start of the first book. He was raised in a palace as part of the royal family with most everything provided for. Yet, Kell also has an identity crisis. He is one of the only members of his kind, a blood magician known as an Antari, and was adopted into the royal family. Kell's search for identity contributes to some of the series' main obstacles.
Lila spends her days picking pockets in our world's version of London. Not the version of today, I believe it's meant to be set sometime in the 19th century but can't remember for sure. Lila dreams of becoming a pirate and leaving London. She enjoys cross dressing to the point that none of the authorities searching for her know she is a girl.
Holland is one of the series most developed side characters. He is the Antari from White London, and the only other Antari Kell knows at the start of the book. It takes a while before the reader gets to know him, but my perspective of Holland as a character changed drastically once I learned his motives.
Rhy is another major side character. He too undergoes much development throughout the series. While I liked Rhy, I don't think I loved him the way many other reviewers seem to.
The different Londons contrasted one another well. I liked how Red London, White London, and Gray London were all surrounded by different counties with different cultures and histories.
That said, I had some issues keeping the world-building straight. I don't know if this is because I read the first few books so quickly, or because it was just hard to keep track of. While it didn't affect my overall enjoyment, I was somewhat confused by the characters' appearances/the characteristics common among some of the ethnic groups featured in the novel. For example, Kell is described as pale, but Prince Rhy has dark skin. I suppose this could be explained by Kell being adopted, but it still made me wonder if I was reading their descriptions incorrectly.
Rating: 4.5/5 for books one and two 4/5 for book three with a 4/5 for the series as a whole.