These past few months were eventful to say the least. So eventful that I am wrapping-up my reading experience for three months in one post. Seriously though, there is a lot to cover.
I read some books that disappointed, others I loved, went to two author events, and finished the first draft of a novel.
Reading
I read eight books in August, September, and October.
Title
Shadowcaster (Shattered Realms #2)
Short Synopsis
A princess proving her worth. A captain on a dangerous assignment. A boy with enchanting music.
Thoughts
I was hoping to enjoy this book as much as the books in the original series, but like the previous book, the characters didn't seem as memorable, and the story didn't seem as compelling as the Seven Realms series.
Rating
Title
Adulthood Rites (Xenogenesis Trilogy #2)
Short Synopsis
Akin is the first human-alien composite male, but looks human. This makes Akin a subject of interest to the sterile human survivors of the apocalypse.
Akin must act human enough to avoid their wrath, while remembering his true nature.
Thoughts
I need to read more of Octavia E. Butler's works. I've really enjoyed the two I've read so far and can't wait for the others.
My main complaint is that this was too short, but that has more to do with the style of writing that was popular at the time it was written than the author. Still thought provoking even though it was published about 30 years ago.
Rating
Title
Amid Stars and Darkness
Short Synopsis
After being kidnapped by an alien, Delaney must impersonate an alien princess or else the entire human race will be enslaved.
Thoughts
I was waiting in a long line at the library and picked this up on impulse as I walked by. I'm not sure I would have read it otherwise.
It's too romance heavy for my taste, and I prefer more science in my science fiction, but it was otherwise a light, fun read.
If you're looking for a book you can't put down, this might be for you.
Rating

Titles
The Shadow Rising (The Wheel of Time #4), The Gathering Storm (The Wheel of Time #12)
Short Synopsis
Books four and twelve of the Wheel of Time series.
Thoughts
Some of you are probably wondering if I indeed skipped from book four to book twelve in this series. The answer is that, yes, I did. At the risk of annoying some of the Wheel of Time fans, I must admit my motive for reading this series lies in the fact that Brandon Sanderson wrote the last few, and I want to read all his books.
I like the other Wheel of Time books, especially book four but not enough to read the eight 1,000 page long books in between books four and twelve.
Rating
Title
Darkness of Dragons (Wings of Fire #10)
Short Synopsis
The final book in the second arc of the Wings of Fire series.
Thoughts
If you've been following this blog for a while, it's probably no secret that Wings of Fire was one of my favorite middle grade series. To some extent it still is. However, this book is probably one of my least favorite in the series, though my least favorite overall would have to be book nine.
It came across as a little anticlimactic to me, and I wasn't a fan of the characters' resolution of the conflict that's been building in the last few books. Still, it was a fun read.
Rating

Title
Shadowshaper (Shadowshaper #1)
Short Synopsis
Sierra must uncover the mystery of her family's magical heritage before anyone else dies for it.
Thoughts
I wanted to love this book so much. The atmosphere is great. Older seems to have captured an otherwise realistic portrayal of Brooklyn with some magic thrown in.
Unfortunately, this book didn't capture my attention enough for me to give it a higher rating.
That said, if you're looking for a detailed, diverse portrayal of Brooklyn this may be the book for you.
Rating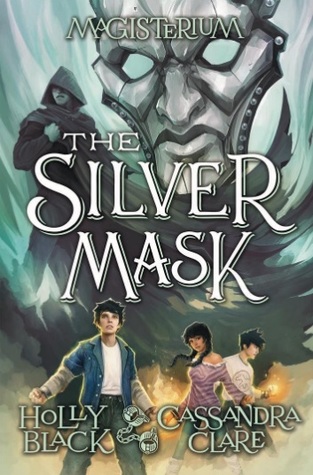 Title
The Silver Mask (Magisterium #4)
Short Synopsis
Fourth book in the Magisterium series.
Thoughts
Oh, look, the only book I read in October. *Hides in shame.* If this isn't an indicator of how busy I've been I don't know what is.
There is something about this series that makes me always come back to it even though there are some less than amazing elements to it. I think it's the premise. I love "hero destined for evil" stories so much.
Rating
 Author Events
In the past three months I went to events for Leigh Bardugo and R.L. Stine. I've had the pleasure of meeting Bardugo twice before, but I don't see how I can go to too many signing events when one of my favorite authors is involved.
Even after attending her events in the past, I still learned something interesting about Bardugo's writing style. She uses a modified version of the beat structure outlined for scripts in the book Save the Cat. She outlines most of the beats mentioned in the book, but skips a couple because she's never sat down and read the book to find out what the others were.
Hey, when it comes to writing, the right way to write is the way that works.
R.L. Stine was a first for me. My biggest takeaways from his event were that sometimes life takes us in unexpected directions, that one of the best ways to succeed is to be open to these directions, and that ideas come from unexpected places.
If you would like to see a full post about these events, leave a comment to let me know.
Writing
My months have been so distinct from one another in terms of writing progress that it almost seems wrong to sum it all up in one post like this.
August was a great writing month. During the first half of the month, I averaged around 5,000 words per day. My first draft ended up being 70,000 words. This makes it the longest first draft I've ever written, though still shorter than the longest thing I've written (90,000 words).
I took a break after finishing my first draft midway through the month, intending to get back to my writing in September.
I started some short stories in September, but the progress I made was interrupted due the disruption Hurricane Irma made to my schedule. I've put those short stories on hold for now.
Little writing progress was made in October until the end of the month when I began reading through the draft I finished in August.
Have you read any of these books? If you could meet any author who would you choose? How do you go about revising your first drafts? 
Share your thoughts in the comments below!