Okay everyone, today I'm trying something a little different and writing a discussion post followed by a review. The discussion is spoiler free. Unlike my usual reviews, this review will contain spoilers. You have been warned!
Also note that this discussion is only my personal opinion. Feel free to disagree.
Not too long ago, I finished reading The Empress (The Diabolic #2) by S.J. Kincaid. It left me conflicted.
The root cause of this confliction is this: I regard good books as books that make me feel emotion, but how many of these emotions need to be positive for me to consider a book good?
Discussion
Extreme tragedy is more realistic. People experience constant ups-and-downs. Fiction reflects this reality, but it is not reality. Therefore, it doesn't necessarily need to reflect the level of tragedy experienced in real life.
People in real life don't often make a single decision that changes everything and leads to action. People in real life repeat themselves, are grammatically incorrect, and speak in run-on sentences.
Try as writers might, words on a page cannot and never will reflect every aspect of the world around us. Good thing too: if it did, novels would bore us all to tears.
And, yet, this makes the reality writers present in fiction no less important. Movements like "#ownvoices," which promotes books written by someone belonging to an underrepresented group about a character from that same group, show how the reality presented in fiction might shape others perception of our own.
Herein we have the root cause of my dilemma: fiction cannot reflect all aspects of reality but the reality that is presented is of critical importance.
I suppose, then, the answer to my question depends on whether or not the depiction of extreme suffering depicted in a way that the reader feels some of the character's emotions because they have come to care about this character so much is critical to what people need to experience in fiction to sympathize with the experiences of our fellow humans.
To this, I have no answer.
There is also the question of whether this matters in a work like The Empress, where the characters' problems are ones we of the 21st century do not experience . . . At least, I hope there are no genetically modified bodyguards out there because if there are, I must be living under a rock.
Conclusion
In the end, it depends on the reason we're reading. If we're reading for escapism, books should, most likely, make us happy. If we're reading for authenticity, then books probably won't make us happy because life isn't the most happy of places.
Review
Please check out my spoiler free The Diabolic review or skip to the "Rating" section if you do not want to be spoiled!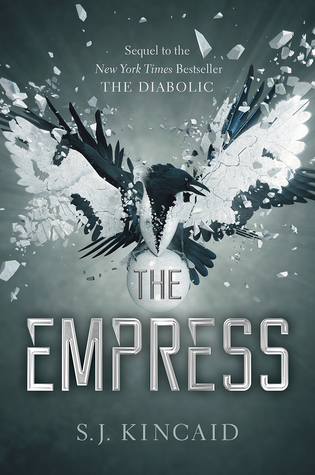 Last warning: spoilers ahead.
As you may have guessed from my discussion, I am still not sure how I feel about this book.
The first half is super awesome and I loved it. One of the things that bothered me about the world building in the last book was that the characters have all of this advanced technology but no one knew anything about science because science was forbidden.
In this book we have an answer. It's explained so well, and I love the author's idea for a space-faring society that regressed to the point where a ten-year-old today might know more about physics than the society's emperor.
It's the second half that left me conflicted.
It was so heartbreaking to first see Tyrus during the second half, mostly because it was hard to see Nemesis's heart breaking. It made me realize how much I'd come to care for her, but it also hurt to see her so distraught.
I think the other thing I didn't like about the way this book ended is that the second half almost seemed to undo the progress made in the first half. The characters made so many discoveries, but those discoveries were invalidated when most of what they discovered got destroyed.
I'm also surprised by how much I disliked the romance ending the way it did. Usually, I would love the female protagonists to have more agency and realize they don't need a guy or, in some cases, that the guy is essentially abusing them, but seeing such a drastic change in the love interest just hurt too much.
Yet another example of how much I've come to care for these characters.
In the end, I suspect much of how I feel about this book will be influenced by the course book three takes.
End of Spoilers
Rating
Despite my misgivings, I will give this book a good rating because a book that can make me experience so many emotions is a well executed one.
Do you read books that make you unhappy? Have you read The Empress? What is your favorite book that has left you emotionally torn? 
Please remember to flag spoilers in the comments!
I believe this is my first discussion post on my blog. If you would like to see more in the future, let me know in the comments!