Reading
In September I read six books and a novella. Of those one was adult, three were YA, two were arguably either YA or middle grade, and one was definitely middle grade. All but two were fantasy with one being magical realism and the other being sci-fi/dystopian.
Short Synopsis: "The monster showed up just after midnight. As they do."–A Monster Calls, Patrick Ness
Thoughts: If I had known this book was from the perspective of a boy whose mother is dying of cancer I wouldn't have read it, but even though as a general rule I don't read books featuring cancer, I'll admit that this is a well written, amazing quick read. I highly recommend it to people looking for a book along those lines, but do be aware that this book is a very emotional read.
Rating: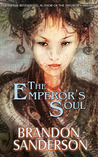 Short Synopsis: A thief is offered her freedom in exchange for forging an emperor a new soul.
 Thoughts: I had no idea a novella could be this good. Then again, it was written by Brandon Sanderson, so I'm not all that surprised.
Rating: 
Short Synopsis: Matt must figure out why he is the only intelligent clone in a society where clone's brains are permanently damaged at birth.
Thoughts: A thought provoking read that deals with many real world issues. It may also be the only book I've ever read set in Mexico. I think this would be a great book to read in a book club or classroom setting.
Rating: 
Short Synopsis: Child genius, Sophie, discovers she is an elf.
Thoughts: I think twelve-year-old me would have loved this book, and I've already recommended it to an eleven-year-old. As of when I read this, however, I found the first half of the book read a little too much like info-dumping and almost stopped reading, but enjoyed the mystery element of the second half much better.
Rating: 
Short Synopsis: When rithmatist students start disappearing from an elitist school Joel, the non-rithmatist son of a cleaning lady, is determined to learn who is responsible.
Thoughts: Really enjoyed this, though not as much as some of Sanderson's other works. Part of that is the concept of rithmatists, magicians whose chalk drawings come to life, seems a little ridiculous though Sanderson did a great job developing it. The other reason is it takes a while to get to the action. I would be upset that the sequel won't be out until 2017, but I want Sanderson's other books just as much if not more.
Rating: 
Short Synopsis: The fourth book in the Throne of Glass series.
Thoughts: Definitely enjoyed this one, but I'm having a hard time putting my feelings about it into words.
Rating: 
Short Synopsis: When Alina discovers she has magical abilities her life changes forever.
Thoughts: Flew through this book, and some of the characters were really well developed. However, there were times when I felt that although I was still very engaged not a lot was happening.
Rating: 
Writing
I'm still working on revising my high-fantasy work in progress. My goal for October is to have finished with part one, but I'm in college and have midterms in October, so I'm not sure how practical that is.
I've decided that I am probably going to participate in NaNoWriMo again this November. There is a new idea I've been longing to write so I'll be taking a break from my revising for the month. The first draft is unlikely to make it to 50K because I'll be writing a middle grade novel and tend to underwrite. For this reason, my current goal for November is to finish the entire first draft in a month as opposed to the usual 50,000 words/month.
In other news, I've printed out about the first fourth of my YA sci-fi work in progress and plan to print out the rest soon. This is the first time I've seen any of my novel length works in physical form so I'm ridiculously excited about this. Once I get the whole manuscript printed I'll probably be carrying it around everywhere with a huge grin on my face like I do when I get my most anticipated book releases of the year.
Blog
This past month I've come to have over 50 followers, and this will be my 49th blog post. Thanks everyone who subscribed/ reads my posts!
I know I'm extremely behind on my tags, but I still have every intention of doing the ones I've been tagged for.