June and July were productive months. I read eight books and wrote over 40,000 words.
Reading
One of the books I read were middle grade, three were young adult, and four were adult.
Title
The Shattered Lens (Alcatraz vs the Evil Librarians #4)
Short Synopsis
Alcatraz must stop librarian cults from conquering the world.
Thoughts
I liked book four better than book three. I thought the conflict was more interesting, the jokes funnier, and I'm excited to continue the next book.
It's important to note that there are a lot of people who would find this series more annoying than funny. I'm just not one of them. I think it's hilarious.
Rating
Title
The Dark Forest (Remembrance of Earth's Past #2)
Short Synopsis
Aliens try to conquer Earth. Humans learn about our place in the universe.
Thoughts
I liked this book better than its predecessor. The plot was more cohesive, and a little faster paced, though still slow. This is hard sci-fi at heart. One of the things I love best about this series is the way it's made me think.
That said, I'm happy with how this book left the story and am not sure I'll continue.
Rating
Title
Lord of Shadows (The Dark Artifices #2)
Short Synopsis
Two young shadowhunters must protect the world and loved ones from supernatural forces while sorting out their forbidden romantic feelings.
Thoughts
This book was fun, but I'm tiring of reading books set in this universe. I'll probably read the series final when it comes out in a couple years, but think I'm done with the future spin-offs.
Of course, if nostalgia strikes, I might change my mind.
Rating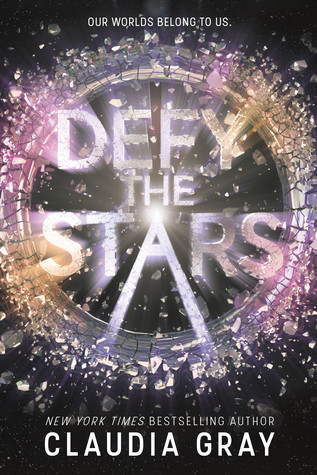 Title
Defy the Stars (Constellation #1)
Short Synopsis
A teenager fighting for a rebellion teams up with an android to free her planet from Earth's influence.
Thoughts
Really enjoyed this one. See my full review for more information.
Rating
 
Title
Our Dark Duet (Monsters of Verity #2)
Short Synopsis
August and Kate must protect the people of their city from the monsters that seek to tear it apart while they battle their own inner daemons. For my full thoughts see my duology review.
Thoughts
I liked this book, but at the same time felt something was missing that I couldn't place.
Rating
Title
The Handmaid's Tale
Short Synopsis
A handmaid shares the story of her life as a member of the first generation to live under a sexist dystopian regime.
Thoughts
Based on what everyone said, I expected to be left emotionally drained by this book. I think that these expectations and the fact that I don't have children are the only reasons I wasn't affected more. It is, however, still a creepy book.
That said, while I can't say I liked what took place in this book, it was very well written, thought provoking, and made me want to keep reading. For these reason, it gets a high rating.
Rating
Titles
The Eye of the World, The Great Hunt (The Wheel of Time #1 and 2)
Short Synopsis
When a village is attacked, three farm boys must flee to a legendary city to protect themselves and their families.
Thoughts
I liked the second book a lot more than the first. Given the nature of most first books in epic fantasy setting up the rest of the series this isn't too surprising.
Rating
3/5 for book one and 4.5/5 for book two averaging to a 4/5.
Writing
I started writing a first draft in June and continued writing it throughout July. This was accomplished through Camp NaNoWriMo. I had a goal of 30,000 words for July but exceeded it and wrote 40,000 words.
What have you been reading? Anyone read any of these books? Anyone participate in Camp NaNoWriMo? 
Share your thoughts in the comments below!