Today we explore books though fantasy tropes in this tag. I was tagged by Kelly @another book in the wall. Continue reading →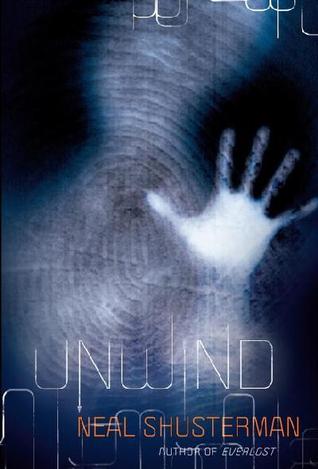 Titles: Unwind, UnWholly, UnSouled, UnDivided
Author: Neal Shusterman
Publication dates: 2007-2014
Genre: Young Adult Science Fiction/Dystopian
Synopsis: The second us civil war over reproductive rights ended in a stalemate. The verdict: "The Bill of life states that human life may not be touched from the moment of conception until a child reaches the age of thirteen.
"However, between the ages of thirteen and eighteen, a parent my chose to retroactively "abort" a child . . .
". . . on the condition that the child's life does not "technically" end."
—Unwind, Neal Shusterman
Review: I started reading this series in my freshmen year of high school, and finished it a few months ago. It has taken me so long to write this review because there is so much I want to say that I'm having a hard time putting into words. This series forces its reader to think and consider difficult issues about the real world through usage of science fiction elements.
The writing style of this series is rather unusual, and while I found it enjoyable I know there are many people who will find the series harder to get into as a result of the constantly changing point of view. If I remember correctly even an airplane got a perspective chapter at one point. Neal Shusterman is extremely good at giving all of his characters individual personalities when writing from all of their separate perspectives.
The practice of "unwinding"– which is essentially an extreme form of organ donating in which every part of the donor's body skin, eye, brain, and everything else can be transferred to someone else– is an extremely chilling and almost inconceivable concept. What makes the story believable and relatable despite it's outrageous premise are all the details Shusterman puts into making his society. Adding to the believably are all of the links and quotes to real events and news stories contained throughout the pages of the series. This includes stories about organ transplants, "feral" (aka rebellious) teenagers, and other medical advancements. The first book doesn't introduce many details of this fictional future's history which might make it difficult for some readers to understand the world, but I did not have this problem at all.
The first book can be read as a standalone, or all four books can be read continuously. Book one is in essence an introduction to the world, while book two expands upon it by exploring the organizations behind unwinding's several hundred million dollar industry. Book three, my least favorite, is essentially the first half of the conclusion. The fourth and final book, Undivided, explores the world's chilling black market that trades extensively in body parts taken from then perfectly healthy humans.
Book one follows three main characters: Connor, Risa, and Lev. All three of them are being unwound for various reasons– Connor due to disciplinary issues, Risa due to budget cuts, and Lev for religious reasons. With varying levels of enthusiasm these characters are brought together quite by accident and go "AWOL" (meaning they flee from their unwinding, which is illegal as unwinds are government property and no longer hold citizenship status). These three remain narrators throughout the series, and new ones are also added.
The series' most impactful scenes were the ones involving unwinding. The author did an amazing job writing these scenes without them being terribly horrific. Rather than make these scenes gory the author took an emotional approach that I would argue is far more influential on the reader than blood everywhere. In my sophomore year of high school I read one of these scenes aloud to my speech and debate class who declared the scene "weird and creepy".
This series has made me think about the state of the medical system. An infinite amount of money could be spent trying to keep people well, but everyone will eventually die. This series explores the concept of how society values some individuals more than others. It is ironic in the sense that unwanted children in this series are sacrificed to for the ones parents would do anything to save. Other issues this series explores include what it means to be alive and whether anyone truly deserves horrific fates.
This book can be enjoyed by people of almost any political stance or religious background which is astonishingly rare for a book with such a deep subject matter.
What Readers Should Know: While this series explores difficult issues including death and the afterlife it remains neutral on these issues.  The premise of this series does involve abortion, but this is not about abortion. Abortion is a mere springboard for the world building of the story making it that much more realistic.
There is some cursing although it is not heavy in this regard. Some minor teenage characters get pregnant in the later books, but details are not included.
Rating: This is one of my favorite series ever. I highly recommend to anyone who can get past the writing style and somewhat heavy subject matter.
The books I've read in 2014:

In 2014, I read a total of 77 books, all of which are pictured above, and I ended the year currently reading three: The Winner's Curse, Pride and Prejudice, and The Fire in Fiction.
Of these I will be choosing my 10 favorite books and series I read in 2014. Before I continue I would like to point out that just because a book I read didn't make this list doesn't nessissarily mean I did not like it, or I don't think the book is worthy of the praise it is given. For me how much I enjoy a book has a great deal to do with timing. I need to be in the mood for it, and I realize that this list is heavily influenced by this fact.
10. City Of Heavenly Fire (The Mortal Instruments book 6) by Cassandra Clare
This book made the list not so much because of it's content, but because of the circumstances under which I read it, and the length of time which I have been reading this series. I read around a fourth of this over 700 page book while in the middle of a lock down that lasted the entire school day, and an additional roughly two hours after school ended.
Without this book I would have been bored out of my mind, focusing on the fact that there was no way to access a bathroom, and pacing back and forth in the confines of our small classroom complaining about how much I never wanted to see the room again. Instead this book inspired me to write a middle grade story about faeries, quite a bit of which was planned during this time period, along with other stories planned but not yet written inspired by the event itself.
What kept this book from being higher on my list is that I felt some of the content setting the stage for the next series in the Shadow hunter Chronicles was unnecessary, and I feel that the characters' personalities weren't entirely constant with previous books in the series.
9. The Vampire Academy Series by Rachelle Mead
 I have put off reading this series for years. Back when I was 12 I was a fan of Twilight, but have made an effort to avoid books Vampire related ever sense, especially those with the word "Vampire" is in the title. I like this series for its suspense. Once I start reading I can't seem to put these books down. These books made it extremely difficult to stop in the middle of a series to finish my summer reading.
8. Poison Study by Maria V. Snider
This book was fast paced and engaging. It reminded me a lot of the Throne of Glass series which I also enjoy quite a bit. What kept it from being at the very top of this list is that I'm not sure I want to continue. The other books in the series don't seem to have very good reviews. If anyone has read the other books in this series I would appreciate them leaving their opinion in the comments below.


7. Books one and two of the Splintered Series by A.G. Howard
I really enjoyed this retelling/reimagining of Alice in Wonderland. I had a hard time getting into book one, but once I got engaged in the story I absolutely loved it. This version of Wonderland was well thought out, and the small details helped make the world feel real to me. My one complaint is the love triangle.
6. The Old Kingdom/Abhorsen Original trilogy by Garth Nix
I have been a fan of Garth Nix since I was about 11-years-old when I read his Keys to the Kingdom series. I often struggle to get into his books, but I love the world building which is what keeps me coming back to read more of his novels.
My favorite book in this series is book two, and I'm not sure that it's necessary to read book one first although it would be helpful. A prequel to the trilogy was recently released, but I'm not sure if I will read it as it seems to be getting mixed reviews.

5. Angelfall books one and two by Susan Ee
I read book one in a single day on a school night. This almost never happens because it usually takes around 50 pages or so for a book to truly engage me. Also, if it happened all the time I would never get any sleep and would have terrible grades.
My favorite of the two was Angelfall. World After was still very good, but I liked the first book much more.  My only major complaint about this series is the cannibalism as I feel it is unnecessary, and a distraction from the overall plot.
4. Steelheart by Brandon Sanderson
This is the first Brandon Sanderson book I've read, and even though superheros aren't something I typically enjoy, I loved the world-building in this book. I already own the box set of the first three Mistborn books. If I weren't so intimidated by their length I would have started them long ago. I want to read the Mistborn books when I have a lot of time set aside to read uninterrupted which is unlikely to happen until next summer. The sequel comes out in a few days on January sixth, and I can't wait to read it.
3. The Skinjacker Trilogy by Neal Shusterman
Neal Shusterman is one of my favorite authors. I love the way his world-building is so thought out, and how his books make me think, but at the same time how I never feel as if he is trying to manipulate the reader into thinking a certain way. The first book in the Unwind Dystology will always be my favorite, but this series and Bruiser are really good too. I can't wait to read more of his books.
This series falls somewhere between middle grade and young adult whereas I feel Unwind is most definitely young adult rather than being able to fit into either category.

2. The Lunar Chronicles by Marissa Meyer
My favorite book out of the three is Cress, but I enjoyed all three of the books that have been released so far. Most series seem to have an amazing first book, but then the rest of the series ends up being either just okay or downright terrible. Not so with this series.
I love the way this series incorporates familiar fairy-tales, but is still it's own original story. The interaction between characters is great, and I love the way each book introduces a new story arc while still incorporating the old ones. I theorize this is how the series succeeded while others have failed to keep my interest after the first book: by having each new novel focus on a new character but still having old characters narrate. The symbolism from the fairy-tales is another one of my favorite aspects of this series.
I have some problems with the believability of the world building in this series, but am willing to overlook this because everything else about it is amazing.
1. Undivided (Unwind Dystology book 4) by Neal Shusterman
This is the best conclusion to a series I have read in a long time. It's also one of the only books to have actually made me cry. Books often make me teary-eyed, but this is one of the only ones that has made me sob. I wasn't prepared to like this book as much as I did since book three was my least favorite book in the series, but it's a tie between this book and the first as to which I love more.
I've been reading this series since my freshmen year of high school, and it's hard to believe it is finally over. At the same time, I can't wait to read more of Neal Shusterman's books. His ability to shuffle between many characters and still give each a unique voice and personality is amazing, the world building in all of his books I've read has been well thought out, and I said this already, but I love the way his books make me think.