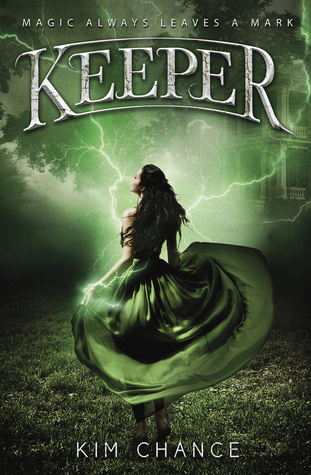 Title: Keeper
Author: Kim Chance
Publication date: August 30, 2018
Genre: Young Adult Fantasy
*Disclaimer: I was provided a free, advanced copy of this book from Netgalley and Flux Books/North Star Editions in exchange for an honest review. Opinions are my own.*
Synopsis: Lainey wants more than anything to get a high score on the SAT and go to a good college. Unfortunately for her, a 300-year-old witch has other plans.
When Lainey discovers her life is more tied to the supernatural world than she ever imagined, it seems those college applications might have to wait.
Review: This book may well mark the beginning of a return for urban fantasy/paranormal romance. It's been so long since I've read an urban fantasy from a debut author, but this book has the feel of a YA fantasy from the height of the paranormal romance craze.
I know several people who've been longing for this comeback, especially for witches. If you're one of these people, this may well be the book for you.
That said, it drew a little too much inspiration from the books written during the paranormal romance craze for my tastes. There were a lot of tropes used in familiar ways, and it reminded me of a lot of books I've read in the past.
A great deal of the aforementioned tropes used are not favorites of mine either. For example, I'm not a fan of novels where a character discovers they're special because of something an ancestor did centuries ago.
Yet, despite this, there were some elements of the book I enjoyed. It seemed atmospheric with a good sense of place, and I enjoyed that Lainey was worried about things most teenagers worry about, like the SATs.
I think this would have made the book a lot more relatable when I was a teenager. I would have loved this book around seven years ago.
As it was, I had difficulty motivating myself to keep reading. I suspect this was due to the story's familiarity and the fact that I didn't connect with Lainey as well as I would like.
Rating: People who who've been longing for YA paranormal romance and those who are looking for a gateway book to the genre may well love this book. However, it was not memorable or engaging enough for me to give it a high rating.
What's your opinion of paranormal romance? What's the best urban fantasy you've ever read? Are you planning to read Keeper? 
Share your thoughts in the comments below!