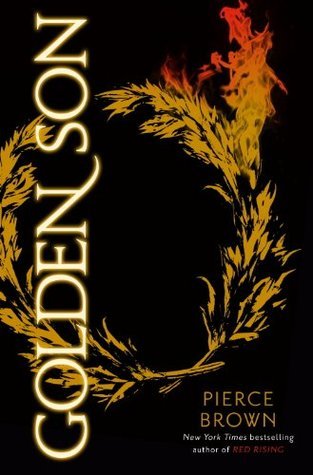 Title: Golden Son (Red Rising #2)
*Note: This is a review of the second book in a series. If you have not read the first book I suggest reading my review of Red Rising instead to avoid spoilers.
This review contains major spoilers for Red Rising, but not for Golden Son. 
Author: Pierce Brown
Publication date: January 6, 2015
Genre: Science Fiction
Synopsis: The mines of Mars are an unforgiving place. There the "Reds" labor believing their work is critical to both humanity's survival and the process of making Mars habitable. Never realizing the Martian surface was settled centuries ago and humanity's population has never been higher. This was Darrow's childhood.
After successfully infiltrating the "Gold" upper class Darrow might just have the chance to spark the revolution to help free his people. Darrow's plan to destroy the upper class from within is challenged more and more each day. Not just by Darrow's enemies who long for his death, but by Gold friends who make him question his hatred of the upper class as well. It's up to Darrow to decide whether he is after retribution or freedom from oppression.
Review: Resuming four years after Red Rising started, Golden takes the conflict and world building in this series to a new level. The first book took place entirely on Mars, but most of this one takes place primarily in outer space. The change in setting gave me an idea of the true scope of this society that I lacked in Red Rising.  It also made the book feel less like a dystopian and more like a space opera even as the story-line focused more on the rebellion. I'm not the biggest fan of dystopian novels at the moment so I appreciated the new direction.
Darrow's character development takes an interesting turn in this book. In Red Rising Darrow consistently did some pretty remarkable things and the only time he really failed at anything was his dual with Cassius. Golden Son begins with Darrow failing epically. The way Darrow dealt with and eventually learns from his defeat adds interesting depth to his character arc.
Time jumps aren't something I usually enjoy in fiction, but I understand why this one was necessary. Darrow's life training with a razor and learning to command space ships wasn't really relevant to the rebellion and everything Darrow is trying to accomplish. In an interview Pierce Brown stated that the reason for the time jump had to do with the fact that the story was written in first person and the time jump was to get to the next time period in which Darrow could narrate. While many books have the narrators learn skills in ridiculously short periods of time in order to avoid these time jumps I'm inclined to agree with the author here and say this one was for the best.
I really appreciate how well developed side characters in this series are. It's very clear most, if not all of them each has his or her own motivations, goals, and schemes. I especially liked how the characters who learned Darrow's true identity in this book each reacted very differently. So many books brush over reveal scenes, and have characters accept one another's huge secrets without  much skepticism or negative consequences. There isn't much to say on this topic without getting into major spoilers, but let's just say Golden Son had some realistic character reactions in this regard.
Golden Son is well paced. I started this one directly after finishing Red Rising and had a lot of trouble putting it down to do things between sittings. This is especially true of the last hundred pages or so which were particularly difficult to put down.
What readers should know: The first book was somewhere on the hazy edge of young adult, adult, and new adult where I just couldn't decide on an intended audience. In Golden Son Darrow is 20 and though this book probably has less potentially inappropriate content than the first book it is most definitely not young adult anymore. That said, if a person was able to handle the content in the first book they should be able to handle this one.
Rating: This book resolved the minor problems I had with Red Rising and earned a five out of five rating for its excellent side characters, good pacing, and great world building. If you've read Red Rising I highly recommend continuing with the series.