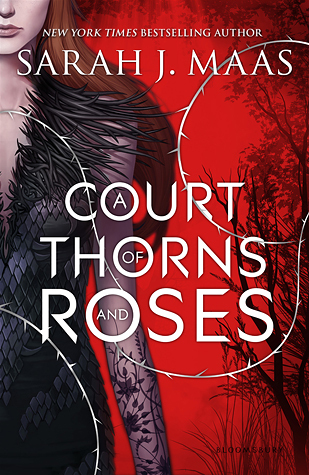 Title: A Court of Thorns and Roses
Author: Sarah J. Maas
Publication date:  May 5, 2015
Genre: New Adult High Fantasy
Synopsis:.Killing the wolf in the woods was nothing personal. The wolf merely got in the way of Feyre's hunt for a deer to feed her starving family. When a beastly faerie shows up at Feyre's home demanding retribution for the life she has taken it becomes clear the wolf Feyre killed was not a wolf but a faerie in wolf form. The creature agrees to spare Feyre's life if she will come with him to live on his estate for the rest of her life.
Faeries once ruled the entire world keeping humans as slaves. Now Feyre is about to return to the part of the world where the creatures' rule never lost hold. There everything Feyre thought she knew about faeries and especially her captor, Tamlin, will be challenged.
Review: I went into this book expecting it to be a lot like Throne of Glass. Both series involve faeries, and I had a hard time reconciling how the author would have two fictional worlds containing fae with significantly different world-building in each, but Maas managed it.
It's not only the world that felt significantly different. While Celaenna and Feyre share some characteristics like their physical abilities and willingness to fight for what they believe is right they have very different personalities and back-stories.
Feyre only wants to keep her family fed and safe in spite of the fact that they treat her like dirt and constantly criticize Feyre. They didn't even seem to care that Feyre was practically the only reason they'd managed to survive this long. What really bothered me about the situation is that Feyre was the youngest child. I don't think I would have been nearly so annoyed had she been the oldest who in our society is often expected to take on an almost parental role when parents die. The sisters needed to come to terms with the fact that their wealth was gone and was likely not coming back.
Maas spends a lot of time building a sense of mystery around the faerie lands. Feyre and the other humans in the novel have clearly defined notions of what the fae are like. It has been centuries since the humans were freed from the faeries' slavery, and in that time period many misconceptions about them have emerged in addition to false rumors circulated by the fae during their rule to keep the humans subservient.
What sets this book apart from other Beauty and the Beast retellings aside from the great character development were the politics. Faerie finds herself caught up more and more into the faerie politics as the story progresses and she begins to learn about how these affect even the human world. While for the most part I enjoyed this political element some of Tamlin's actions still didn't make sense to me even after the political elements became entirely clear. I hope these will be more fully explained in the sequel.
The middle of the book slows down to allow time for Feyre to sort out what elements she has been told about Fae are true, and allow time for character development. With the exception of Feyre's family the characters were well developed, and there was more to most of them than first appeared. (Tamlin, Lucien, and Rhysand in particular.)
This is a retelling of Beauty and the Beast, and so some plot elements were predictable, but there were enough differences between this retelling and the original faerie tale that some plot elements remained unclear.
The pacing at the end of the story picks up again to become much more action paced. This book reads like a standalone, but with so much left to explore and some minor plot threads left incomplete I'm glad this is a series.
What readers should know: When I heard this novel was being marketed as new adult I was expecting some detailed romantic interactions. While there was talk of sex and even scenes involving it this element of the plot was not nearly as detailed or prominent as I was expecting given my experience with New Adult which, granted, is not very extensive.
Since this was a Sarah J. Maas book I was also expecting a fair amount of violence. While there certainly was some violence especially in the form of torture late in the book (Tamlin always treated Feyre with respect, even in the beginning), this was nothing compared to what I expected after reading the Throne of Glass series.
Rating: This was an excellent book overall. However, I felt the pacing in the middle was a little too slow, and even after learning the full details of the faerie politics in the book some of Tamlin's actions didn't entirely make sense to me. I highly recommend this book to fans of Beauty and the Beast, faerie book series like The Iron Fay and Splintered, or Throne of Glass.